went to jess's last night after manchester
went ova stuff that we can do in the holidays
n decided to stay at mine
we went to morrisons with £4-65
and went to the discount ile ( dunno why ppl think thats bad)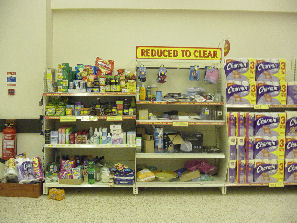 n we got all this stuff…..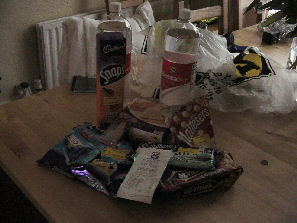 its amazin.. n as sad as we are we worked out how much we saved!! we saved..
(drum roll please) £4.03!!!!! that is like almost the amount we spent
so its like we got double for our money!!!! we were amazed
came to mine and overal in the night we watched 4 DVd's alltogeva!!
lol n jess watched 6 coz i fell asleep.. but JESS DIDNT WAKE ME UP!!!
we filmed this dodgey dance thing that took like 4 takes to do
lovin the song tho.. n we drew on are faces with eyeliner….